From the beginning our design emphasis was to create a Golden Age look and feel for the course. The drama and beauty of the natural landscape enabled us to design directly into the features of the land, and our goal was to design a golf course that was "meant" for this property.

From a design perspective, the nines differ in appearance, but complement one other. For example, the front nine offers dramatic terrain features such as a steep bluff running through the 6th, 7th and 9th holes. A member called the series of holes from the 3rd through the 9th as "mystical and surreal." The back nine, intimate to the water's edge, works it way around a 70-acre lake and water can be viewed from every hole. Our design intent was to not have any two holes resemble one another, and they all have different personalities and traits.

Natural topography, stunning vegetation, meandering creeks and lakes all provided architects with a distinctive opportunity to "discover" a truly classic golf course setting. This unique site, coupled with the desire to enhance what nature provided, had resulted in Kinloch Golf Club.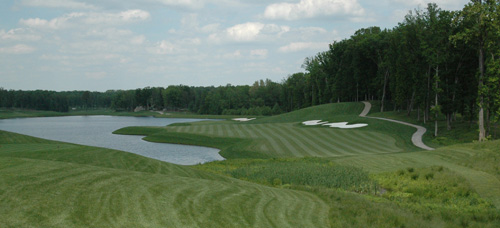 Nineteenth Hole

Match tied after 18 holes and nowhere to go but the clubhouse? Then laythe whole kitty down on a par-3 that forces a water carry to a green surrounded by frightening bunkers. Kinloch possesses a trait that golfers may see more of in the years ahead: a 19th, or Settle-the-Bet, Hole.

We had a perfect location for this hole: a long nose of water on a 70-acre lake next to the clubhouse. We reconfigured that cove of the lake to give us the look we wanted, and we spent as much money on it as any other par-3 on the course. We built five tees, each one with a shorter carry over the lake to the 19th green, ranging from 107 to 188 yards. Flanked and fronted by bunkers, and framed by mounding, it is a stunning little creation and a fun hole to play.

Practice Facility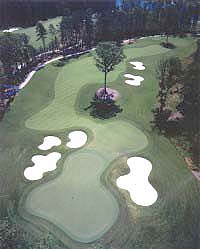 Kinloch has a double-ended range, each end blind to the other, four target greens with mammoth teeing areas, two putting greens, two pitching greens and a short-game area, with a bunkered teaching green off to the side. A separate 100-yard hole sits apart from the range, so golfers can practice wedge shots into the green. At the back of the range, 320 yards away, there is a private tee.

The teaching center covers 3,200 square feet, with three heated and lighted indoor hitting bays, one of them equipped with three video cameras front, back and down the line and a computerized digital system that can analyze a swing and also transfer it onto a CD or tape. It is a state-of-the-art, sophisticated building designed for teaching, coaching and training.

In designing the short-game facility, we simulated conditions golfers will face on the course, all the way through the wedge hitting area, with uphill, downhill and side hill shots and grasses at varying cuts. A stick in the ground won't suffice any more. It has to be comprehensively thought out and have all the shots: the bump-and-run, high grass, flop shots, and must take you all the way out to 100 yards.

"This WILL be the model practice facility. Nothing is left out of it," said Kinloch Director of Golf, Phil Owenby.

Vinny Giles, Design Consultant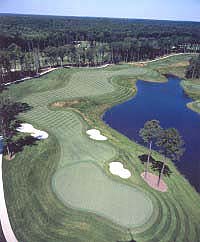 Vinny Giles has been actively involved in the golf world since 1961, having been an extremely active amateur player on the National level for 16 years, then moving on to other aspects of the golf business in addition to amateur play. While an amateur player, he won both the U.S. and British Amateur tournaments, as well as being a three-time NCAA All American the four-time Walker Cup representative, of which he was team captain in 1993.


Vinny is currently the president of Pros, Inc, a firm managing businessfinances endorsements and all income-related activities for professional athletes, managing approximately 20 professional golfers. Actively involved in golf management for twenty years, Giles has dealt in nearly all facets of the golf business.

Notwithstanding his experience and longitude in the golf business, Kinloch Golf Club is Vinny Giles' first signature golf course design, and the project is turning out to be a huge success. This 19-hole private golf club in Goochland County, VA, is the first design collaboration of Lester George and Vinny Giles.

LINKS of INTEREST:
Golf Digest - Top 100 Golf Courses in Americahttp://www.golfdigest.com/courses/americasgreatest/
http://www.golflink.com/golf-courses/articles/Kinloch_Golf_Club.asp
http://www.golfweek.com/americasbest/top100modern.php